Dorky Hair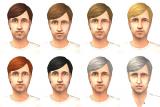 Comments
This hair is
perfect
for this Sim I made yesterday (or rather, that CAS made for me - for the first time ever, I loved the placeholder Sim it gave me and had to have him in my 'hood). Fansee always has the perfect hair for my gentleman Sims. Think she's spying on me?

* NixNivis looks around suspiciously, trying to spot the Lamb Cams

Aww, thank you all for the sweet comments and the "find". I'm flattered and glad someone finds the hair useful.
HEY Nix, what's that over there??!!
* fanseelamb points over there and innocently retrieves stuffed!lamb!cam while Nix isn't looking