IKEA Arkelstorp Table

Leefish presents - a joint upload from cmomoney, shastakiss and leefish.
Upload Pictures by the Amazing Fansee"Yoga"lamb
Mesh by cmo, recolours by shastakiss and package/slots by leefish.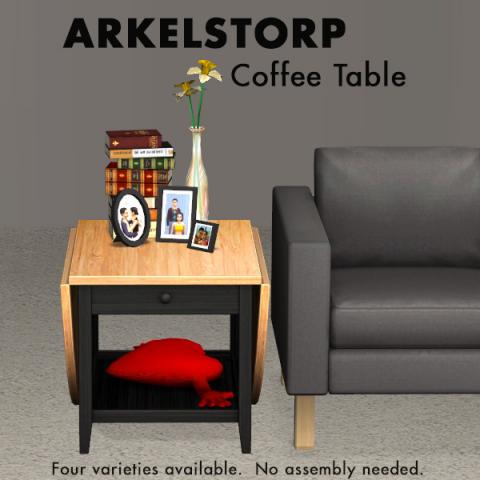 4 tables based on the new set from IKEA - the Arkelstorp.
Polygons, subsets etc
All tables have two subsets (base and top) , are in Surfaces> Coffee Tables and the master file is the small one tile table. All tables have many slots.....
Arkelstorp Coffee Table : polys 770, price 265 simoleons
Arkelstorp Half Open Table (left and right): polys 784, price 290 simoleons
Arkelstorp Open Table : polys 820, price 290 simoleons.
If you choose to have your sim perform Yoga on this table you may need to block the left slot on the big table.
Filesize 209.59 KB | File Name CSF_IKEA_arkelstorp_MESHES.rar | # of Downloads 4,015
---
Filesize 743.64 KB | File Name CSF_IKEA_arkelstorp_RECOLORS.rar | # of Downloads 3,564
---
Comments

These are totally awesome. Thanks to all involved!!

Wow so many tables and so many slots! I love the whole set of meshes and how they're all repositoried, thank you