Update on TV's Jeopardy!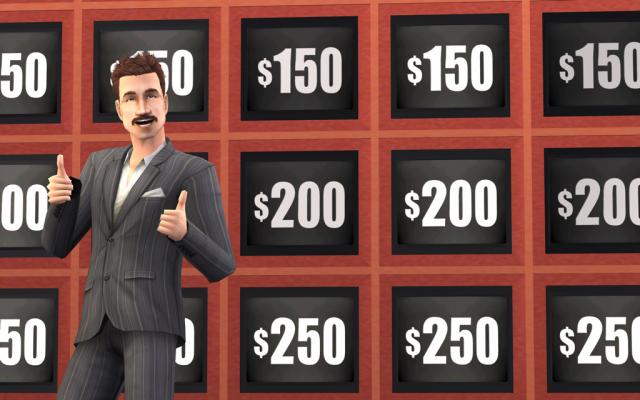 Here's an update to the set being made. Unfortunately, no luck on making the TV monitors work like television sets. So instead, they'll be decorative objects that can be recolored and critiqued. It's a slow work-in-progress, will have to work on making microphones for the lecterns eventually.
For those unfamiliar with this project's beginnings,
you can check out this post here
for more info. And to see what the set looks like in action (prior to this update),
this is how it is on YouTube
.
Incidentally, it's amazing what type of objects one can make in such an "old" game like The Sims 2. It's like one's own personal 3D modeling software where you can zoom in and out to see your objects in action!
EDIT: Now the set is available for download
HERE
!
Comments

Wow. It looks AMAZING. I love how the fake screens turned out - I think it looks even better than they would as TVs with sims constantly turning them off and on and whatnot.
And that text clue is perfection! The entire thing is, really. Amazing set and amazing pics.
* fanseelamb is awed