Franny Sims Archive

For all of you who loved the Franny Sims meshes and were sad when her site disappeared, I have great news!
I found a whole bunch of them stashed away on an old cd of mine and decided to upload them to my site,
Puppetfish.Blogspot.com
so that everyone can enjoy them!
I've got most of the meshes, including Booty Gal, Classic PinUp, Fairie Girl, Fashion Model, Fit Chick, Kurvy K, Kurvy K Teen, Momma Lisa, Ren Gal, and Rio Gal. The rest of them I found at the graveyard, but since they were all lumped together I spent some time to sort them and found out that the majority of the files I already had, but luckily I did find some missing meshes and recolor files that I had been missing. I also created some images to showcase them.
Enjoy!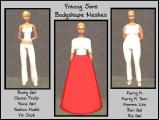 Comments

I've never heard of them - so pleased to hear that they're available.