The New Price Is Right, 1972 Set Design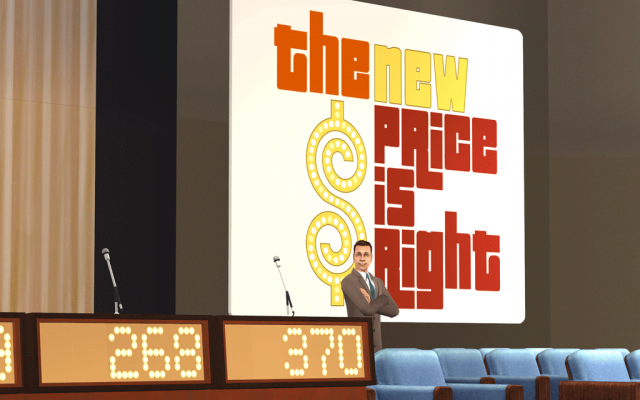 Yes, another game show for The Sims 2, one of my favorites too (and still on the air, albeit with a different host). This is another one "planned" for upload in the future for folks to download...whenever that occurs. Introducing, the New Price Is Right! With host Bob Barker. Or Dennis James, if you know & prefer him.
These images are animated PNGs and can be viewed better using Firefox or other compatible Internet browsers. Incidentally, if you'd like to compare these pictures to the actual show,
here would be an example of the early episodes of the show
.
Don't worry too much about the bandwidth. There's only 4 optimized PNGs in these animated images. They range from 600kb to 900kb.
With several weeks of tweaking and modeling, there's gonna be quite a few files to obtain, the main ones being the prize doors that can open in 6 different positions!
The host, model, and prizes don't come with the future upload. Learning how to set footprints was interesting, and for making slots, I pretty much used an end table to expand it. And all these set pieces are base game compatible!
Unfortunately, the poly counts are high...unless you don't use the chase lights around the prize doors and behind the turntable, in which case the poly counts are acceptable!
Still more work to be done, I'll have to slim down the files. At least certain ones are slaved with main textures so that the files become smaller. And I'll have to see what pieces of code to eliminate in each file.
And lighting with the material texture entries in SimPE is still a balancing act, although it may be more the studio lights I'm been using...ah, we'll see. Thanks for viewing this post.
-------------------------------------------------------------------------------------------
In case you're wondering about my previous pictures of another show called
Jeopardy
, it's being postponed until I can figure out how to connect the microphones to the showcase lecterns from the pictures above.
The microphones were cloned from a base game mirror. So everything passes through it (not convenient), and so I set up the lecterns as objects to block the path from Sims to walk through it.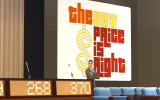 Comments

Even though I'd never DL it, because such shows are not my *thing*, I must still say that I'm greatly impressed with what I'm seeing here. Great work, Superman!