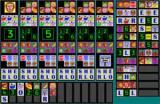 Genre:

Puzzle

Rating:

8/10

Review Type: Game Review
A not so easy logic puzzle game. It's a DOS game from 1996 that I found at the Internet Archive. It's a bit confusing at first, make sure you read the instructions (by clicking menu>help). Once you get the hang of it though, it's very interesting.
Give it a try!
Comments

I love Sherlock! Used to play it for ages.
Inspector Parker
A Series of Unfortunate Events
by Oberon media (you can get them from Big fish) are the same premise with better graphics.
And yeah - I own both of them.

Oh - btw - can you add a link for the Sherlock?

Yeah, in your post, there is no link to the game, @
justJones
. So how are we to try it?