Tiny House - Maxis Makeover


Fishmas 2015 - Day 3
♪ I'm dreaming of a white fishmas ♪
♪ Just like the ones I used to know ♪
♪ Where the seaweeds glisten ♪
♪ And fishies listen ♪
♪ To hear sleigh bells from the pole ♪
Tiny House - Maxis Makeover
This boring Generic design is now modernised into a small two bedroom family home.
Open plan flowing from living to dining to kitchen, with a little patio out back for a bbq in the summer months.
Sit back relax and know the work has all been done for you!
This lot has:
Dining
Kitchen
Living
2 Bedrooms (1 double 1 single)
Bathroom
Garage
Patio
Lot Price: §77,811
Lot Size: 2x2
No Cc
All Eps
Sps used HM/TSS/KB/IKEA/MG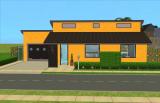 Filesize 3.24 MB | File Name fishmas_gift_day3.zip | # of Downloads 489
---
Comments

Ooh! Ooh! It's so pretty!
* fanseelamb rips off paper
Ooh ooh ooh! It's so nice!!! Thank you Santafish!


Another Fishmas gift is here!!
Hooraaaaaaaaaaaaaay!!
-gE
>=)