Teddy Can Sit Anywhere

Fishmas 2015 - Day 6
I saw Mommy kissing SantaFish
Underneath the mistelweed last night
She didn't see me drift down the streams to have a peek
She thought that I was tucked up in my fishcave fast asleep.

Then I saw Mommy tickle SantaFish
Underneath his beard so snowy white
What a laugh it would have been if Daddy had only seen
Mommy kissing SantaFish last night.
A global mod to allow Teddy Bears to sit on almost every surface. It will sit on tables, end tables, desks, countertops, coffee tables and almost all shelves. Teddy is too heavy to sit on the BV glass
shelves and on the left tile of 2-tile shelves. The right tile of the 2-tile shelves is strong enough to be able to hold Teddy. Whatever I tried, I couldn't get it to work and I blame EA for using the wrong screws.
Install Instructions:
This mod is an edit of the CEP-extra that makes Teddy recolorable. To install the mod, place it in
Documents\The Sims 2\zcEP-Extra and let it overwrite the original CEP-file.
This was the cleanest way of making this mod.
Huge thanks to Leefish for helping me figure out how to override an override.
Thanks to NixNivis for her second opinion.
Thanks to Numenor for the CEP/CEP-Extra's.
Thanks to Fansee for the great wish.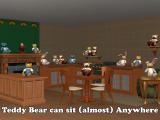 Filesize 587.12 KB | File Name Fishmas_Gift_Day6.7z | # of Downloads 740
---
Comments
Thank you for the gift. And i just want to say am stunned by the generosity and kindness and general wow of the fishies.

All the gifts so far are just amazing and as a creator myself, I know how much time these gifts took to make and package and so on, and then to just give them away without a name on them. Am humbled and awed. Thank you all.
Ooh, what a great gift! Thank you, SantaFish and anonymous ElfFish!
@
leefish
, this
is
an awesome fishbowl you've got here.

I think it is because we have such an awesome admin - and I really do mean that. You're leading the way, the rest of us are swimming in your wake.