Haute Habitation and Romantic Residence


Haute Habitation and Romantic Residence
Uploader:

ekrubynaffit
Fishmas 2015 - Day 14
Deck the bowls with boughs of fishies,
Fa la la la la, la la la la.
Tis the season to be jolly,
Fa la la la la, la la la la.
Sing we joyous, all together,
Fa la la la la, la la la la.
Heedless of the wind and weather,
Fa la la la la, la la la la.
Haute Habitation - Maxis Makeover
Another boring maxis house made over into something fresh and modern.
An added on Garage and a third bedroom makes this a lovely family home.
This lot has:
Dining
Kitchen
Living
3 Bedrooms (1 double, 2 single)
2 Bathrooms (1 up 1 down)
2 Patios (1 up, 1 down)
Greenhouse
Gargae
Lot Price: §116,137
Lot Size: 3x3
No CC
All Eps
Sps used HM/TSS/KB/IKEA/MG
Romantic Residence
Another Maxis makeover, with an added lake/pond (I believe a nwe Mama wanted one!)
A small amount of cc for this one
By Hokadk47 Storybook addons
Im pretty sure everything needed is included, if its not check out this post
http://sims2artists.com/index.php?topic=4685.0
Shasta Pirate Recolours
http://shastakiss.livejournal.com/
Windows and doors by Nengi, Door fix by Leefish and recolours (which I havnt used, but they are lovely) By shastakiss
http://www.leefish.nl/mybb/showthread.php?tid=5980
Roof Supports and beams by Mustluvcatz
http://modthesims.info/d/392032
OMSPs by Silent Lucidity
http://modthesims.info/download.php?t=317716
This little house used to have just one floor, one bedroom and one bathroom.
It now has Two floors, Three bedroom and Two bathrooms.
Plus Kitchen, living and dining.
I have left it unfurnished as frankly, I wanted to go nuts with cc, and the only way to curb it was to not furnish it!
So...go nuts!
And MERRY CHRISTMAS!
Lot Size: 3x2
Lot Price: $43,860
All EPs used SPs NOT used GL/CEL/FFS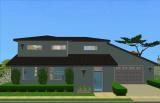 Filesize 3.94 MB | File Name Fishmas_Gift_Day14_part1.zip | # of Downloads 296
---
Filesize 4.34 MB | File Name Fishmas_Gift_Day14_part2.zip | # of Downloads 265
---
Comments

Fishmas is here again! We must've been REALLY good today! A whole stocking stuffed with goodies!! Wonderful stuffs! So much to unpack -- it's just GREAT!!
Thanks Santafish, and all your fishy fellows!!