Walls Default - Holiday Pack

Walls Default Replacement - Holidays & Party pack
All right folk, I've been replacing walls left and right in my game for a while, but this is the first time I'm really hurling my defaults to the world at large!
This package replaces all the walls from the Happy Holiday Pack... OR the Happy Holiday Stuff. I.e., the Christmas, New Year and Happy Birthday walls.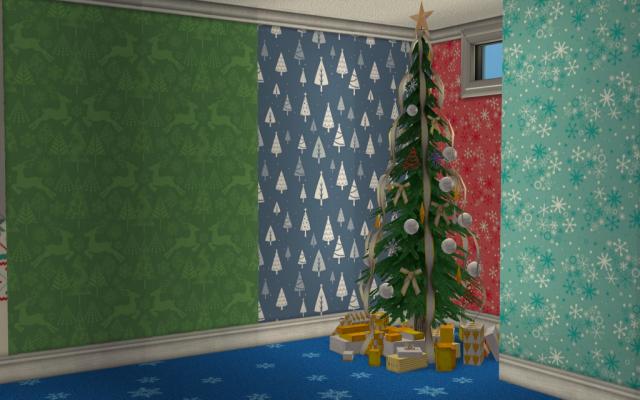 I'm sure this will seem obvious to anyone -- and it may have been defaulted in the same fashion by someone else, but if so, I haven't been able to find it. I've swapped the walls with some of Shastakiss's wonderful "North Pole" collection. The hardest part was to select which walls to swap. Shasta's walls are simply great, and I wanted to put them all in!
I tried to match colours to the Maxis original as much as possible. The birthday walls have been replaced with the less Christmas-sy options, i.e. stripes, tiny dots etc. So I'm afraid that means no more birthdays, but they still look like "happy walls", will match with the festive ones, and will also be usable all year round.
Credits: Shastakiss. Duh.
Textures are 256x512 and with level of details, so there may be a tiny loss of details compared to the originals which are larger. The package isn't compressorized.
Finally, as I couldn't default all of the North Pole walls, I've included in the zip file a list of the ones I've used in case you want to install the rest of the set as custom walls. (Do it!!!! They're gorgeous).
Cheers,
Raindrop
Filesize 1.33 MB | File Name WLL_HolidayPack_Default_Raindrop.zip | # of Downloads 138
---
Comments

Gorgeous! Thanks for that! It saves me doing it for myself.