Barbie Roberts: 1959 Collection

Update 10/3/10
- Fixed a couple of issues with the Suburban Shopper mesh. There were several visible seams on the mesh, and two gaping holes at the bottom. I'm surprised no one pointed out the holes! o.O
Anyhoos, please redownload and replace the old suburban shopper dress file with the new one. You will have to
reapply the dress
to any sims who were previously wearing it.
Update 9/24/10
- The
Golden Girl
dress has been fixed! There was a little issue with recoloring the dress, a small specular issue. Also, the dress now has
two channels
: the skirt and the bodice. Please download the
Golden Girl Dress FIXED.rar
and overwrite the previous version. You will have to
reapply the dress
to any sims who were previously wearing it.
-----
When I first came to leefish, I had this grand idea of doing a bukkit load of Barbie themed downloads...but..I forgot to factor in life (and my lack of patience to create).
However, I've had a sudden burst of creative energy and I whipped up 3 Barbie Doll outfits from the original 1959 collection.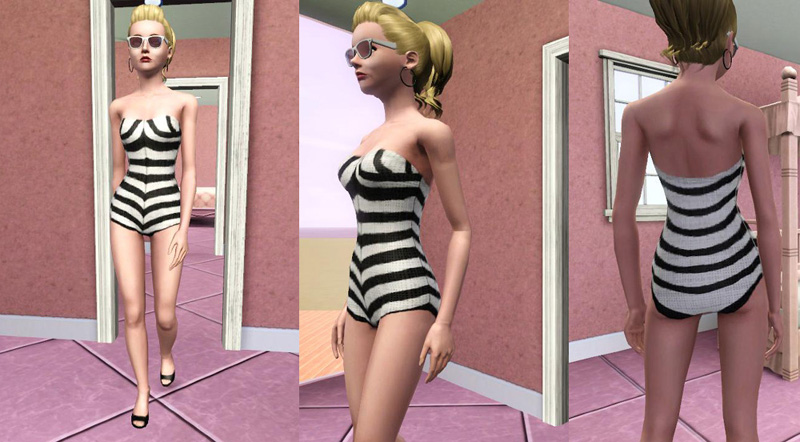 The most recognizable one is the classic striped pin-up suit that most people associate with the vintage barbies. This suit is somewhat recolorable being that the stripes are stationary. It was the only way to get the design to look right on the swimsuit. I painstakingly hand drew those stripes and matched up the edges, but it was so worth it! The suit is found in Everyday and Swimwear.
The next is called Suburban Shopper. This is a custom mesh made by me and is included in the package file already. It has 3866 polys, which is the same as the EA dress I altered to make it. It morphs correctly both on fat/built sims. The dress has 3 recolorable channels: the shoulder straps, the dress skirt, and the dress bodice. It's available in Everyday and Formal.
The last piece in this collection is a simple formal gown called Golden Girl. It only has two recolorable channels and is found in Everyday and Formal. There is one flaw with this dress; the bust has a small indention from where the original mesh caves in at (the halter-top cocktail dress). It's not very noticeable, but sometimes at an angle you can see it. I suck at meshing and didn't know how to fix this properly, and that was really the only mesh the dress would look right on.
For comparison shots, see this site
here
.
Boring Stuff
-Please do not redistribute these without my permission
-Feel free to retexture my mesh
-Link back here for credit
Acknowledgments
Big special thanks to our very own Leesester for helping me mesh around those god damned legs! You're a life saver!
Want the meshes?
The Suburban Shopper mesh can be downloaded,
here
.
Filesize 421.69 KB | File Name Suburban ShopperFIXED.rar | # of Downloads 2,405
File Updated 03-10-2010
---
Filesize 506.6 KB | File Name Golden Girl Dress FIXED.rar | # of Downloads 2,240
---
Filesize 379.73 KB | File Name Classic Pinup.rar | # of Downloads 2,583
---
Comments
As a fan of Mad Men, I'm extremely grateful for this set! The Suburban Shopper dress is something I've been seeking for awhile and you did that very nicely! I've just spent several hours trying different patterns on it and you'd be amazed at how many authentically awesome looks that dress can have! It's now one of my top favorite - gotta have it always clothing items. Thank you!