SimPE: Which folder to install the Careers & Photo Templates?
Hi, Until a couple years ago, I was an avid TS2 simmer, but recently pulled my games out of closet. I now have new computer with Windows 10 and successfully (I think) installed all my Sims 2 games and EP's (I have them all, right up to M&G).
I found the SimPE careers and the Photo Studio template downloads, but haven't been able to find instructions on which SimPE folders to put them in. The main SimPE used to say, but no longer works and the location of the downloads do not include instructions. I have had no luck finding this info on the Internet. Does anyone know? Thanks!

I'm still not sure where to place the two SimPE career files. There's no auto install, so need to know which folder to place them in.
You can find the file to make your own careers, but no instructions on where to place them!!!
https://sourceforge.net/projects/simpe/f...0%28v2%29/
However, I have had progress to share. This site,
https://sourceforge.net/projects/simpe/f...28v3.0%29/
has the Photo Studio download. There are two of them, use both. First install SimPE-Templates-Setup.exe, and then SimPE Templates 3.0.
After it installs, if you have Windows 10, you can see the files for each template by going to your Windows C > Program Files (x86) > SimPe Data.
Here's a photo of how it looks on mine: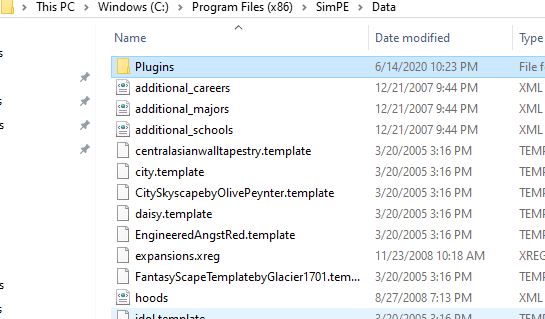 I remember when I used to play a lot, that after I made my own portraits, I would place those files in my Documents > EA Games > The Sims 2 > Downloads > Artwork. The Artwork folder is one I created just for art stuff. You can get additional frame templates on the web like these for Free Time:
http://modthesims.info/showthread.php?t=280637
Update! I never found where to place the two SimPE career files anywhere on the Internet, and kept digging thru my old notes. Finally, I found you put those files here:

C:\Program Files\SimPE\Data

I tried it and it works fine.

Currently I'm stuck on making the 4GB patch work, but will continue reading thru here and other places on the Internet before I post that question.