Goin' Retro Bookcase

So, Cmo made
a great retro-style bookcase for TS3
, and he was kind enough to give me permission to convert it for TS2. (Thank you, Cmo!

) So here is a blast from the past for you and your Sims: The Goin' Retro Bookcase!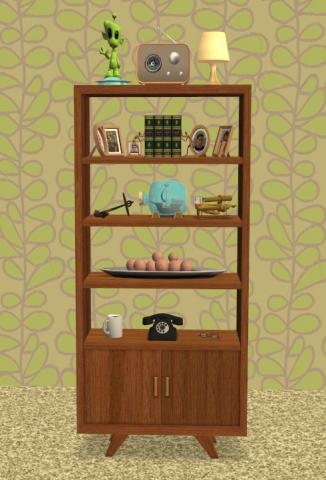 It has 15 slots and comes with four recolours for the wood and three for the handles.
There are two versions of this bookcase, one for the basegame (BG) and one for Free Time (FT).
If you

don't

have Free Time or Apartment Life, get the

BG

version.
If you

do

have FT or AL, get the

FT

version.
You'll find it under Hobbies -> Knowledge and it costs 500 Simoleons.
Thanks to:
Cmo, UV Mapper Pro, SimPE and Photoshop 7.
Filesize 1.17 MB | File Name obj_nixnivis_cmoretrobookcase-BG.zip | # of Downloads 414
---
Filesize 1.17 MB | File Name obj_nixnivis_cmoretrobookcase-FT.zip | # of Downloads 1,210
---
Comments
Nix! I'd been really yearning for this after I saw CMO's s3 specimen. This is so very perfect for my semi-tasteless-retro houses.
(why semi-tasteless? because I ask myself would anybody realistically have thought that that wallpaper is a good idea/ really hot/ whatever. Basically, I don't do horrible houses for the sake of horridness).
None of that might make sense, but I really needed something like that, and it gets me in the mood to recreate that formica/plywood/fablon world. Although, my workplace is still all that -- think of Life on Mars.
Secondly, Nix! Thank you for the radio link, I

old tech.
XanderGC;9306 Wrote:Retro-tastic!

---

I would love to see even more retro themed items for the Sims 2, maybe that could be a challenge for you creators out there. Not me, I can't create anything other than recolours lol
I bet you could Xander - once you have tried a bit with a meshing program (Blender is ok) and have realised that what is mapped STAYS mapped - then you can make
so many
objects using the repository technique and mesh edits.