Goin' Retro Bookcase

So, Cmo made
a great retro-style bookcase for TS3
, and he was kind enough to give me permission to convert it for TS2. (Thank you, Cmo!

) So here is a blast from the past for you and your Sims: The Goin' Retro Bookcase!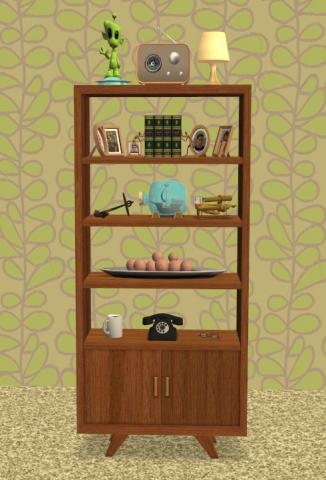 It has 15 slots and comes with four recolours for the wood and three for the handles.
There are two versions of this bookcase, one for the basegame (BG) and one for Free Time (FT).
If you

don't

have Free Time or Apartment Life, get the

BG

version.
If you

do

have FT or AL, get the

FT

version.
You'll find it under Hobbies -> Knowledge and it costs 500 Simoleons.
Thanks to:
Cmo, UV Mapper Pro, SimPE and Photoshop 7.
Filesize 1.17 MB | File Name obj_nixnivis_cmoretrobookcase-BG.zip | # of Downloads 414
---
Filesize 1.17 MB | File Name obj_nixnivis_cmoretrobookcase-FT.zip | # of Downloads 1,210
---