Stone Tile & Wall Set - Muted Colors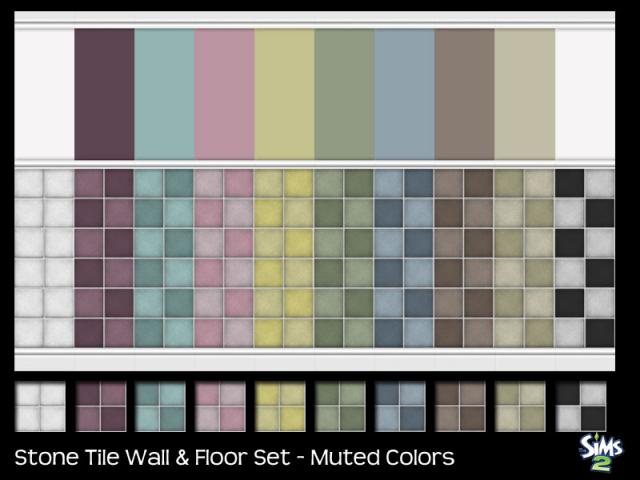 The Stone Tile Wall & Floor Set consists of 10 Floors in a variety of two tone muted natural colors. Also included in the set, is 10 Half (more like 3 quarter) Tile Walls with white wood base skirting, white wood dado and painted upper half. Both walls & floors have a white grout finish in the tile area.
This is a custom texture made by me. So, if there's a color I have not included within this set that you would like to see in your game, feel free to let me know and I will see what I can do.
Hope you enjoy. Happy Simming.
Filesize 635.22 KB | File Name SAILFINDRAGON_StoneTileWallFloorsMUTED_SIMS2.zip | # of Downloads 583
---
Comments

Karen - Here is your purple tiles. Hope you like.


Stone Tile Walls & Floors - Purple Package Files.zip
(Size: 121.86 KB / Downloads: 162)
The second one in the swatch is purple.... isn't it? Do I need to adjust my monitor? Whatever you wanna call them, all these colours look lovely to me! Such a beautiful set. Thanks for sharing!

The second one looks more Mauve-ish to me Fansee. (You're just jealous because you didn't get a color made just for you!

)
They are very pretty and shall be in my dl folder as soon as I get it all straightened out again. (It gets all ruffled and disrupted when I'm making something and testing it out.)
But but... mauve IS purple! I rest my case.
PS: The yellow one was made specially for me. Sailfin just didn't know it at the time.