Stone Tile & Wall Set - Muted Colors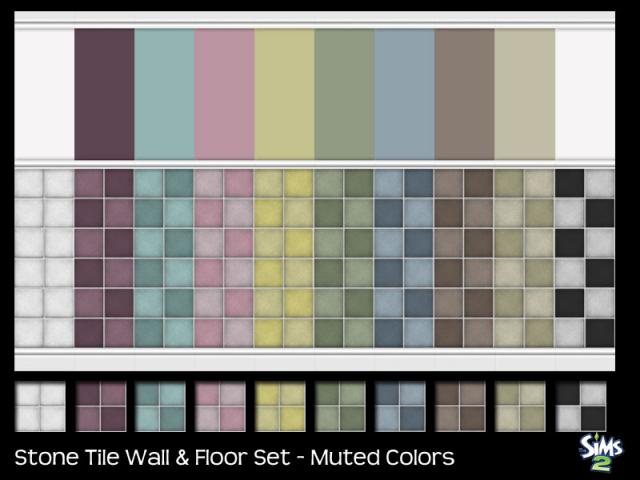 The Stone Tile Wall & Floor Set consists of 10 Floors in a variety of two tone muted natural colors. Also included in the set, is 10 Half (more like 3 quarter) Tile Walls with white wood base skirting, white wood dado and painted upper half. Both walls & floors have a white grout finish in the tile area.
This is a custom texture made by me. So, if there's a color I have not included within this set that you would like to see in your game, feel free to let me know and I will see what I can do.
Hope you enjoy. Happy Simming.
Filesize 635.22 KB | File Name SAILFINDRAGON_StoneTileWallFloorsMUTED_SIMS2.zip | # of Downloads 583
---
Comments

Thank you for my purple tiles, Sailfin

Will test them out later.
Fansee: the second one is a wine colour and not proper purple

I know all the shades of purple - have been studying them for a long time

No, please don't do this to me! I absolutely cannot resist tiles, you see, especially not pretty pretty tiles like these. But my "Walls" subfolder is already filled to bursting and is groaning in pain just at the thought of more tiles...
...but it will just have to take a painkiller, because I'm downloading these anyway.

Thank you!