Baby Outfits for Girls Only

Artemida made girls-only versions of a whole bunch of fakepeeps' baby outfits. (Well actually Saya94 made the first and Artemida did the rest.) Links to both Saya's and fakepeeps' original versions are in Artemida's post.

What does this mean? You can now have different baby outfits for boys and girls! Just get one of fakepeeps' original colours for the boys, and one of Artemida/Saya's colours for the girls and voilà - your baby boys and girls will have different outfits.

You can still only have one outfit for all the boys in your game and one outfit for all the girls in your game, of course.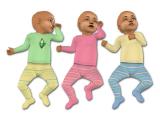 Comments
Now I'd love Theraven to make these buyable baby clothes as well, for Chris hatch's mod.

@
joandsarah
- There's a mod for buyable baby clothes? How does that work? Like, you can plan the baby's outfits? I'd love to see that, do you have a link?
It's been out for a few months.

It's by Chris hatch who I believe is the one who originally found out how to make male and female baby clothes. You can get the mod either from him on Back Ally sims or from MoonlightDragon, which I recommended. Theraven also known as Simmer22 on MTS, creates a huge number of baby clothes including the new non-default buyable ones for this mod. I believe she is the only one creating clothes for the mod. Chris did include a couple of outfits, but making clothes isn't really his thing. Once you have the mod you use the teddy bear that comes with it to buy and plan your baby clothes, and you can pick and choose from any non default you have installed. I probably have about 50 now. You can change what your baby wears at any time! She has also started making accessories. Hair, baby shoes, hats-oh so cute! Seriously Theraven doesn't get nearly enough love or recognition for her contributions to the tiniest sims.
Adding the link
http://moonlightdragon.freeforums.org/portal.php