Uni Dorm Posters

Karen has the
Campus Constructors Contest
. This is rather splendid and worthwhile and requires me to get off my fundiment and actually create my Uni Hood for SimVannia Waters. My Specialisation is Science (and in particular - Maths, Physics with touches of archeology, meteorology, and engineering). So yeah, basically geeks of many types. In an effort to give my students a chance to have posters which fit their geek-ish nature I created some for the Dorms and the Refectory.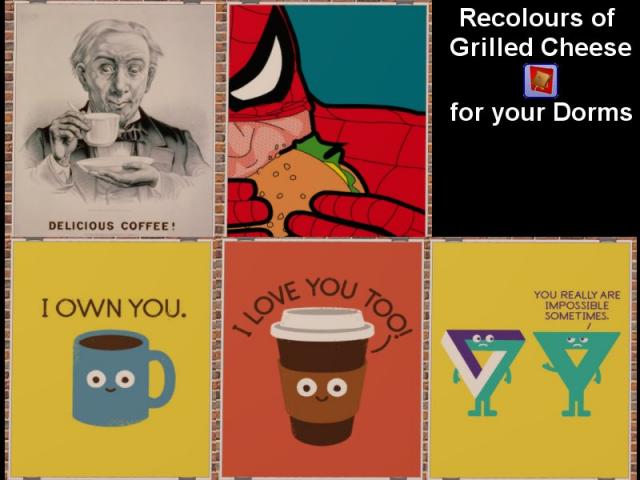 Credits:
Images from the Interwebs and Google. Not entirely sure exactly where they are from.
Filesize 192.68 KB | File Name art-eaSurfingUniverse-MAS-Dorm.rar | # of Downloads 193
---
Filesize 318.29 KB | File Name art-eaGrilledCheese-MAS-Dorm.rar | # of Downloads 196
---
Comments

I just have to say that the Spiderman one will be going in my Peter and Gwen's house

Thank you!
You're welcome!
There's others that are available - I'll see if I can find you some links.