Place Me Anywhere Lamp

Ok, this is what I have been doing all weekend - I was supposed to be working on the forum, but I got sidetracked......
Its a LAMP - the mesh is er "appropriated" from Maxis - some of you may recognize it as once being stuck on a bloody big rock. I always liked this lamp and made it for personal use ages ago. I decided to share it after TS3 came out as EA don't appear to give a damn about TS2 anymore....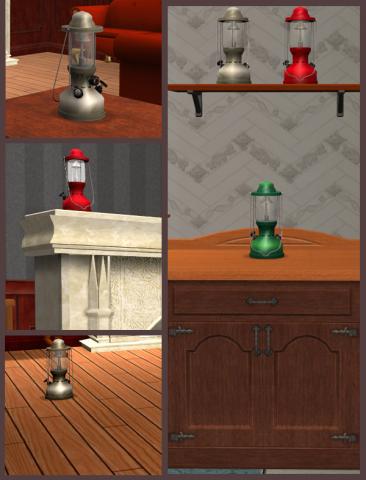 Its placeable practically EVERYWHERE you would want to place a small handheld lantern - all tables, desks, dressers, fireplaces, shelves, the floor. I will be uploading to MTS too, but this is early release for all you Leefish fans.....
Prices and Recolours
100 simoleons, comes with
three built in
recolours (grey, red and green) and an easy to recolour texture map.
Catalogue Location
Floor lamps - the one with the itsy-bitsy-teeny-weeny thumbnail....

Polys:
1110 polys (I know - but look how CUTE it is). I had ten on a lot when testing - no slow down, and my PC is rather poor.
Filesize 153.32 KB | File Name LeefishPlaceMeAnywhereLamp.zip | # of Downloads 1,974
File Updated 14-12-2010
---
Comments

I somehow missed this when I was here last time

However, it is mine now! Thanks for sharing


Finally! NO MORE ROCK. I did not like that rock. My sims shall use this to go camping. It is very adorable.


Thank you Leefish! This is so much more useful without the rock!