Large Grocery Windows

So, as promised, second window for the new set

I have been playing OFB a lot so these are really being made as my own building demands them....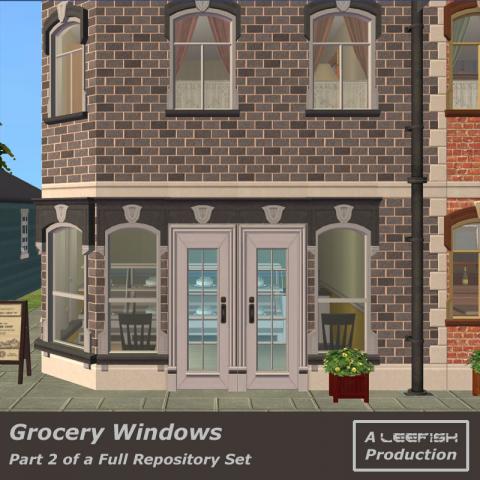 I am trying to make a row of shops - and these windows are a big part of how the look is going to go. I'm thinking I NEED a door on the corner.... The doors in the shot are the OFB doors with a small buy mode THING plonked over the top. I have to use move objects on to move the deco thing right now, but I'm working on it. I will also make a piece for the diagonal corner - as that gap is bugging me a LOT. I spent most of this week trying to think of clever ways to make it go away but no luck so far. Grrr.
IMPORTANT:
these are repository windows - you have to have the master windows or they will flash blue in game. Master windows are on LeeFish
Master Windows
Filesize 26.27 KB | File Name LargeGroceryWindows.rar | # of Downloads 3,007
File Updated 14-12-2010
---
Comments
levini;7358 Wrote:Lee.
I think i figured a gap solution.
Why not make cornices that cover the gap ? and I would love the door thingy lol
As in
lee Wrote:I will also make a piece for the diagonal corner - as that gap is bugging me a LOT.
Yea, maybe - if I get pc back


amythestfenix;1457 Wrote:

(02-10-2010 03:14 PM)

leefish Wrote:

(02-10-2010 02:58 PM)

amythestfenix Wrote: ......converting the build items from the S3 Hacienda set? ....

I feel really stupid, but what is the hacienda set? Is it a base game item? Or is it store?


I'm sorry, Lee, I should have been more specific. The Hacienda set is store but I will get it for you if you wish to work on it. I don't have S3 (and don't really want it either), so I honestly don't know what the base game items look like.
I have Sims3 - I'm happy to extract whatever resources you need, I'm pretty sure I have the Hacienda set as well.